Why you add the voltages by batteries in series?
You could explain this with the water analogy: (see wikipedia.org/wiki/Hydraulic_analogy)
If you place two pumps in series, then one pump pumps the water , for example, 1 meter higher and another pump in series pumps it again 1 meter higher. In total you pump the water than 2 meters higher.
A battery is a kind of electron pump. If you place, for example, two batteries of 1 Volt in series, then one battery pumps the electrons 1Volt higher and the other one again 1 Volt higher. The total voltage difference becomes then 2 Volt.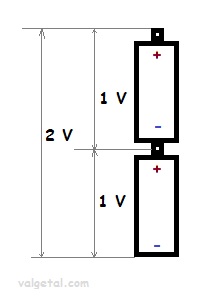 But connecting the plus pole of one battery with the minus pole of the other one.... Is this possible? Won't you get some kind of short circuit? What happens then?
The following isn't a perfect scientific explanation, but just an attempt to understand the process a little bit...
Let's take as an example a Zinc Copper Galvanic Cell and see what happens when you connect two in series.
First we place a zinc electrode in a container with a solution of ZnSO4.
An amount of Zn atoms will dissolve from the electrode into the solution, until the created electric potential difference between the Zn electrode and the solution is that high that this process stops. Any Zn atom that likes to dissolve then, is stopped by the force exerted by the negative electrons left in the electrode and by the extra Zn+2 ions in the solution. There is equilibrium when the voltage difference between the electrode and the solution is - 0,76 V (this is just a property of zinc).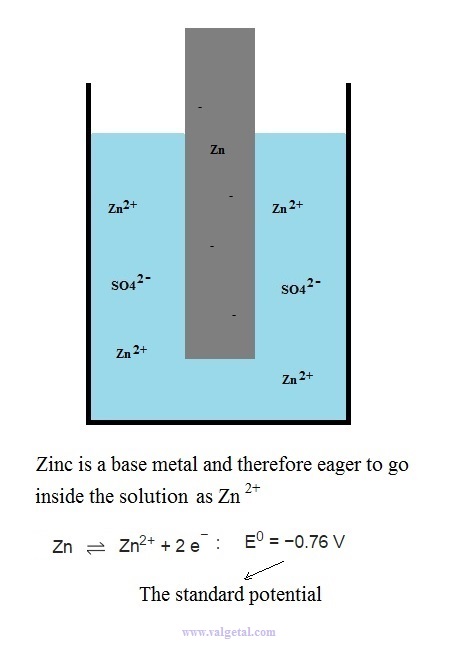 I've tried to illustrate this in the following cartoon: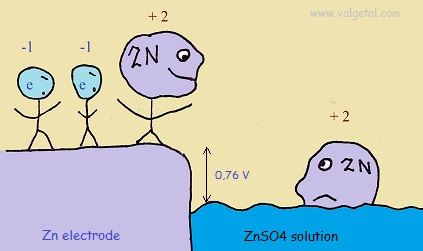 The Zinc atoms like to dissolve into the solution. But when there are already many inside the solution, any new atoms that like to dissolve are stopped by the negative charge of the electrons left in the electrode and the positive charge of the zinc atoms already in the solution. The potential difference will not become greater than - 0,76 V.